Erprobungskommando 229
In October 1945 the first four pre series Horten Ho-229A-0 were delivered to the Luftwaffe, followed by a series of 12 A-1 models. The Ho-229 A-1 was armed with two 30mm MK-108 cannon and powered by two Junkers Jumo 004D engines.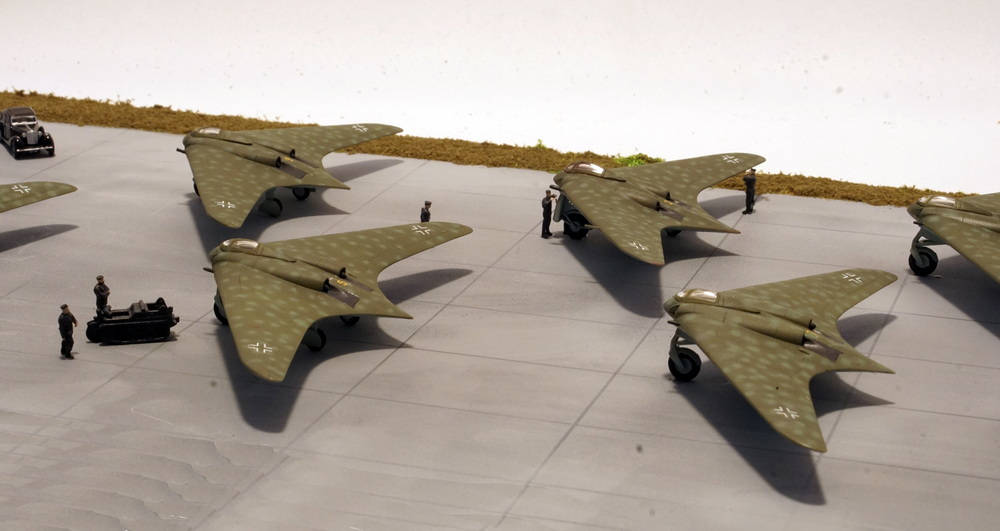 In order to evaluate the potential of the Ho-229 to develop the best combat tactics for this innovative aircraft, the Luftwaffe formed Erprobungskommando 229 as an operational test squadron.
The unit was based in Berlin and flew operational missions from November 1945. In January 1946 a further twenty Ho-229s were delivered. These were of the A-3 model, featuring uprated Jumo 004F engines and two MK-112 55mm cannon. The A-3 was very successful against the Allied bombers and an order was placed for 2000 aircraft to be delivered from June 1946 onwards.
Models:
- 5 x 1/144 Brengun Ho-229
- 1 x 1/144 F-Toys Ho-229
- Fuel truck & Lorry by Panzerfabrik