Hawker Seaphoon
In 1941 the Royal Navy was in need of a new attack aircraft. The ageing Swordfish was too slow and its successors, the Albacore and Barracuda proved to be not much better.
The Royal Navy tested various aircraft and was impressed with the performance of the Hawker Typhoon which was entering service with the RAF. Deck trials however showed that forward visibility from the cockpit of the Typhoon was inadequate. This made them discard the Typhoon as a possible candidate. The Hawker company however, offered to modify the Typhoon to make it suitable for carrier operations. This became the Hawker P-1017. The modifications included moving the cockpit to the front and the engine to the middle of the aircraft. Also, the tail and undercarriage were strengthened to take an arrester hook and deck landings.
The first prototype of the Sea Typhoon was flown in June 1942 and extensive tests were conducted. In the middle of 1943 the aircraft entered service with the Royal Navy, operating from various carriers. The aircraft was also used by the Canadian and Australian Navy. Very quickly "Sea Typhoon" became "Seaphoon". The Seaphoon was used as a low-level attack aircraft, armed with canon, bombs and rockets.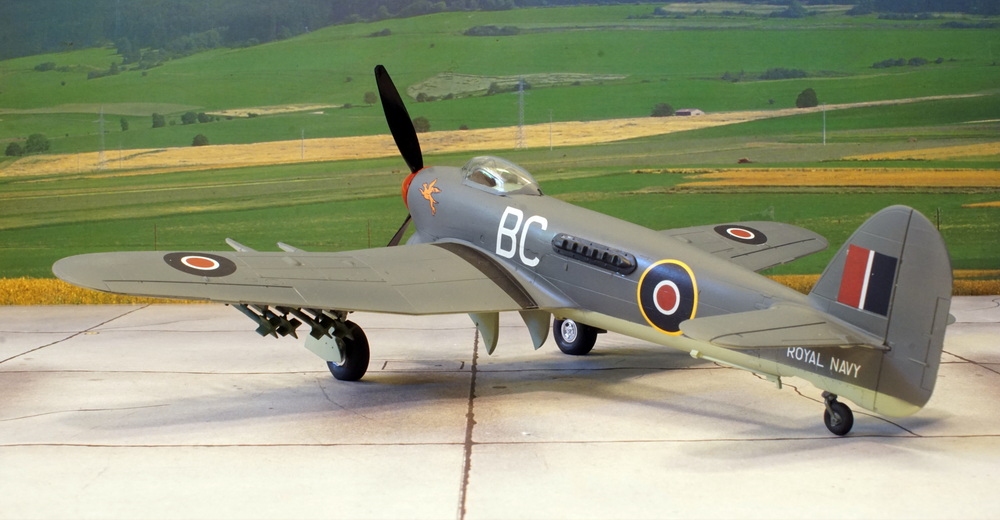 The Seaphoon was so successful that the same modification was also done to the Hawker Tempest. This however was not ordered by the Royal Navy as they decided to wait for the new Firebrand and Spearfish attack fighters. The delay in these aircraft meant that the Seaphoon soldiered on until 1949.
Model: Hasegawa 1/48