Canadian Car & Foundry Tiger F Mk VI
When in 1944 the Royal Canadian Navy was looking for a heavy long range fighter aircraft their eye fell on the Grumman F7F Tigercat. Although the US Navy was not very enthusiastic about the Canadians saw a big potential for the Grumman design.
In October 1944 negotiations started with the Grumman Company about buying 240 Tigercats. Grumman however was already overloaded with work and could not produce the aircraft for Canada. Also there was a problem with obtaining the proper engines for the Canadian aircraft.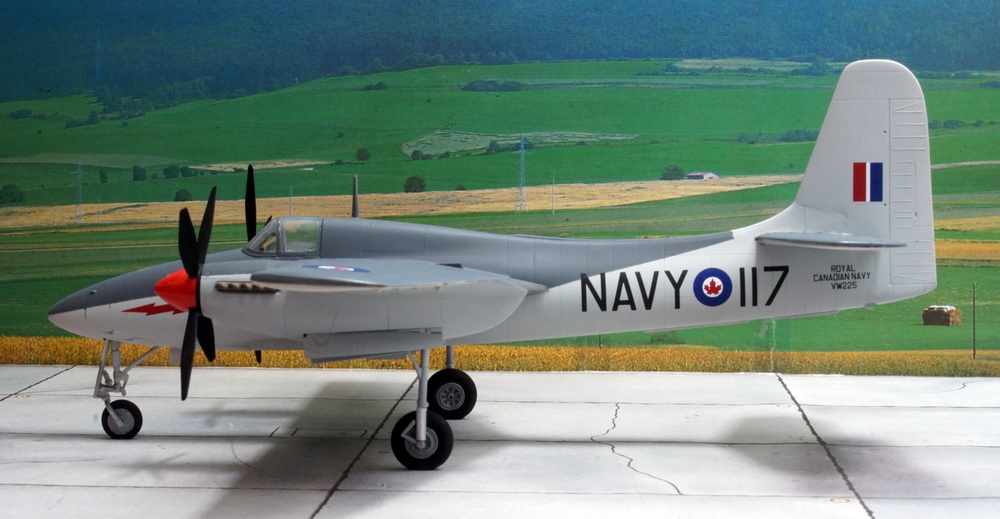 When this became clear the Canadian Navy approached the Canadian Car & Foundry Company for a possible license production of the Tigercat. This company was happy to oblige but this still left the problem of the engines. Canadian Car & Foundry Company proposed to re-design the Canadian produced aircraft to take the Rolls Royce Merlin which was also license produced in Canada.
And so the Canadian Car & Foundry Tiger was born. The first Merlin powered aircraft took to the sky in January 1945 and an initial production batch of 120 Tigers F Mk I was delivered from April 1945 onwards. Just like with the US Navy the type proved difficult to handle from aircraft carriers of the day and was mainly used from land based airfields.
The end of the war saw a large cutback in orders for new aircraft but in total 486 Tigers were produced in different versions. The last production version was the F Mk-VI of which 96 were delivered to the Royal Canadian Navy.