Brief history of the Heinkel He-843 Lanzer
In 1970 US intelligence began to get the first indications that Germany was developing a new strategic supersonic bomber. Under cover agents managed to get a few pictures of the prototype undergoing flight tests at the Heinkel works. These photographs showed a large aircraft with four engines and variable geometry wings.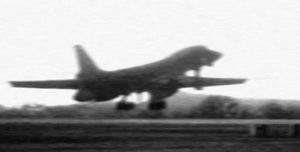 Later it was learned that the type was a design from Heinkel and got the designation Heinkel He-843 and the name "Lanzer" or Lancer. The aircraft was powered by four afterburning Junker Jumo 067C engines. In 1975 the first operational aircraft began arriving at the frontline units. In the German - Chinese war from 1978 to 1981 the He-842 was widely used against strategic targets in China. The Heinkel He-842 can carry both conventional and nuclear bombs.
The He-843 was finally shown to the public at the Berlin air show in 1985. The aircraft displayed there was "Yellow B" from KG 26. This aircraft flew the most operational missions against the Chinese piloted by Lt. Gruber.